Has reading helped you maintain sanity during the lockdown? If yes, then read on to learn about tips to create a reading corner at home that's not just good to look at but highly functional too.
With work-from-home becoming the new norm for the world going ahead, each one of us will get to spend the time saved from travelling to and from work on things we like to do. Some of us have already resorted to spending more time in the kitchen, trying our hands on new recipes, while others are working out hard, for some, this is a blessing in disguise as they can spend time with their children and for some, this time is utilized reading one book after the other and catching up on a lot.
If you too are devoting all the spare time to books, this is when you should also consider creating a book nook for yourself at your home. Looking for tips? We got you covered.
This article talks about things you can do to come up with the best reading corner at home. Read on:
Zero In On The Perfect Reading Corner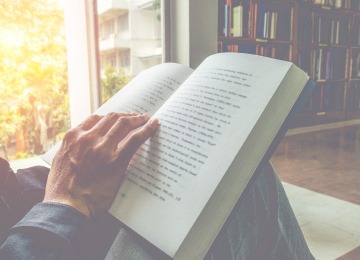 Next to the window that overlooks the green landscape outside? In the TV room because you are a multitasking pro? Or do you read a few hundred pages just before you sleep and would like setting up the reading corner in the bedroom? Decide your comfort zone because getting lost in books starts with a comfortable place, and not a cramped one.
Make The Reading Space Look Cosy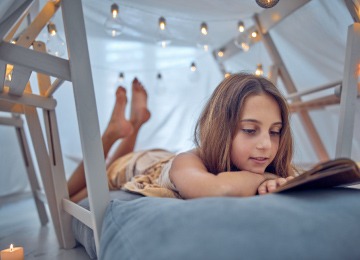 Thinking about creating a relaxing reading room? A strip or two of fairly lights and some incense candles can do the trick. Moreover, to give the book reading corner a warm, cosy feel, try adding in a rug or two and a lot of scatter pillows here and there. Once that's done, sit or lie down to read the page-turner, the choice is yours – as you are in a comfortable position already.
The Modern-day Book Shelf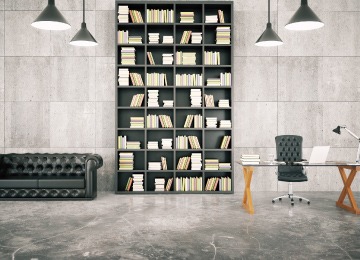 If the space allows and you have books in that number, having a designated book shelf isn't a bad idea after all. You can order a pre-made one and get done with it or follow a simple DIY to make an inexpensive bookshelf by yourself. If you're looking for cabinets, go in for a built-in reading nook. Having a small table nearby helps as you can sip on your coffee easily, place the mug there, and not worry about spilling it by mistake.
Bright Or Light? Colour It Right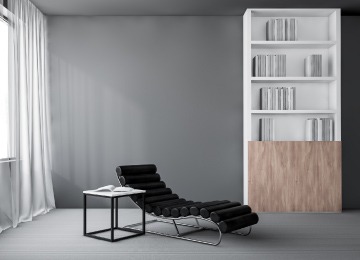 Reading renders a calming effect on the brain. The entire process of reading, should, hence be a comfortable one. If you are creating a reading room from the scratch, it is important to lay focus on wall and accessory colours you choose. While blue colour is known to reduce stress and help calm your mind, green – the colour that represents nature – helps refresh. If you want an earthy shade, choose grey, as this neutral colour is not just soothing, it also goes well with all types of furniture.
Cramped Space? Hammock's The Way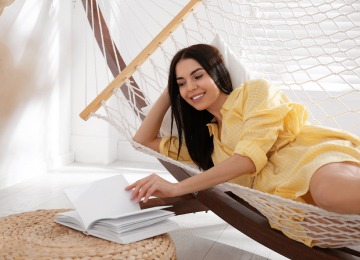 If after reading till here, you couldn't figure out a spacious corner in your home but are still keen on having space devoted to your 'me' time with books, fret not. All you need is parallel going walls close enough to have a hammock installed right there. A hammock reading space with a couple matching pillows is not just a comfortable idea but it also helps give the space a chic, contemporary look.
Want to go all out on it or looking forward to keep it simple and minimal? Whatever you choose to do, ensure the reading space doesn't end up giving you jitters just because of a wrong colour palette or an uncomfortable chair, or may be, poor lighting. Hope reading this article will help you easily create a reading corner at home.