Ever desired to own a Period home? Period homes are the most desirable when it comes to luxurious living. The fine architectural details and the slightly worn out air that reminds you of those times when life was a little bit slower, sets them apart from the run of the mill. If you love to dwell in a period property but do not have one, you can choose some of the suggested themes to create an ancient aura in your home.
Gothic Theme
Time Period – c 1150-1550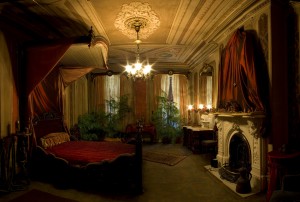 Inspired by the medieval style, Gothic style is categorized by peaked arches, dark wooden paneling – preferably oak, stained glass windows, a limestone fire place, Pointed furniture with curved legs and dark colored ornate walls. To form a mystical ambiance, paint the walls with deep colors mainly ruby, black, or violet and create textures with gold. If not the colors of wall, some additions on the window such as stained glass windows with floral designs and heavy velvet or brocade curtains creates the desired appearance. Wrought iron chandeliers and wall sconces is a great idea for gothic style interiors. Do not forget to add plenty of candles in your living space.
Georgian Theme
Time Period :1714- 1837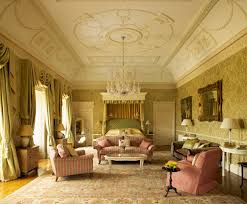 Influenced by the ancient Greek and Roman architectural idea, Georgian style is characterized by its elaborately carved cabriolet legs, ball-and-claw feet, broken pediments, ornate carvings, piercing and gilding and Chinese porcelains. To get the look, burgundy, sage green and blue grey or lighter shades such as pea green, sky or Wedgwood blue, soft grey, dusky pink and a flat white or stone could be incorporated on walls. Install delicate furniture to enhance the look of the space. Fabrics with Chinese motifs like peonies, Chinese porcelain and motif table lamps further gives a perfect Georgian view of your room.
Victorian style
Time Period : 1837 – 1901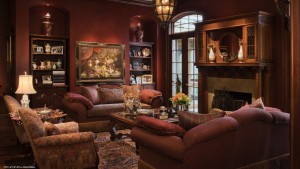 Being an amalgamation of Gothic, oriental (Indian & Japanese designs) and rococo designs, Victorian style decks up your house with rich dark colors, tiled or carpeted floors, plump arm chairs and pouffes & ottoman. The fabrics are highly patterned. Use velvet and damask for the winter and exchange with muslin, cottons and chintz for the summer. To avoid the dark colors on walls, look for flock, damask or water silk wallpapers featuring large blowzy flowers or other recurrent motifs of the time such as birds and animals.
Edwardian theme
Time period: 1901-1910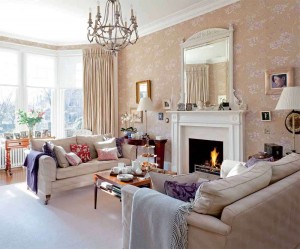 This style of ancient interiors is all light and fresh in contrast to the heavy, cluttered, and dark Victorian style. You can choose pastel color schemes in the colors of flowers – primrose yellows, leafy greens, the lilac of wisteria, and grey. Living rooms can take darker colors such as dark green for fabrics and cream walls or choose wallpapers plain or embossed, with a fresh, cheerful feel such as roses, lilac, wisteria, and sweet peas, with trellises, ribbons and bows. Stripes are also typical – go for something simple but rich for dining rooms such as a gold damask and white, and candy stripes for bedrooms. Introduce bamboo or wicker furniture and Buy fabric lampshades in soft colors with frills and tassels. Add accessories such as early gramophones (the ones with the conical shells), tiered silver cake stands, and pretty silver photograph frames.
Image Source:
homizen.com
angelinacasa.com
imagarcade.com
pininterest.com